Why the David Bowie reference?
Well, we changed the bathroom mirror. Again.
You might remember that this was the mirror that came with the house when we moved in:
Recently,
I posted about this mirror
that we bought from
Home Depot
,
which I liked, but the more I stared at it, the more I started thinking that it wasn't right for this space.
So, we returned it and found mirror number 3 which I am happy to say I am loving:
This one is from Home Goods and cost the exact same price as the Home Depot one.
I think it makes more of a statement and the rustic finish matches the rest of the house.
Here's one more look at the mirror evolution:
So, the other change hasn't been done yet but there was something about the slat blinds that was bothering me.
They seemed like they were too overwhelming for the window.
So, the plan is to return the blinds and make a roman shade which should be more fitting for the window.
Here's a swatch of the fabric I am planning to use:
I found the fabric at Calico Corners but the price per yard was way more than I was willing to pay.
So, I googled the name and found it on Etsy for about $15 per yard
(less than half the cost of Calico Corners)!
I love a good deal.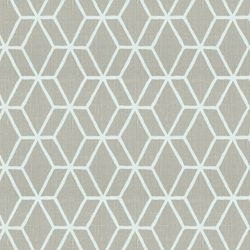 I'll share pictures and a tutorial on how to make the shade as soon as it is complete.
Enjoy the weekend!
- Caitlin